About Paul


For Paul Milesi, the piano and jazz have always been at the center of it all. He began playing professionally while still in high school, and has since appeared in venues ranging from casual clubs to elegant embassies.

Paul received his earliest musical training and exposure to jazz in his hometown of Syracuse, New York. He began his piano studies with Eleanor Audlin and Mary Cross. Later, during high school, he delved into jazz with John Whitney, Mickey Cieply, Phil Klein and Frank Puzzullo, and at age 17 played his first "gig" with a quartet at Carmen's Restaurant.

Paul went on to major in Jazz and Studio Music at the University of Miami, studying piano with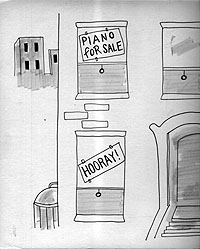 Vince Maggio and earning a Bachelor of Music degree in 1976. It was while studying with Vince that Paul first became interested in the mechanical and tonal workings of the piano.

After graduation, Paul moved to North Carolina, where as a visiting instructor he directed the jazz ensembles and taught a history of jazz course at Duke University while leading his own groups in the Research Triangle area.

"My piano is to me ... myself, my speech, my life."
--Franz Liszt

Paul left Duke to begin a masters program at the Eastman School of Music. But within a year he abandoned Eastman and moved to New York City, where he spent three years studying live performances of the City's leading pianists, and playing in Manhattan restaurants and at jam sessions in many of the jazz lofts.

In 1982, Paul moved to Washington, DC to attend Georgetown University Law Center. Although he has never practiced law, he holds the Juris Doctor degree from Georgetown and is a member of the Pennsylvania Bar.

While in law school, Paul appeared with a trio six nights a week at the J.W. Marriott Hotel in downtown Washington. Subsequent DC engagements have included City Club of Washington; the Georgetown Inn; the Bombay Club; the Four Seasons, Ritz-Carlton, Willard Inter-Continental, and Hay-Adams hotels; several embassies; the Vice President's Residence; and many Washington area nightclubs, including Takoma Station, Les Nieces, Murph's, and Twins Lounge.

In addition to his full schedule as a pianist, Paul was for several years during the 1990s the artistic director and frequent producer for Washington DC's Twins Lounge jazz club. From 1994 through 1998, he was also Secretary and Treasurer of Finas Sound Productions, Inc., a New York City jazz production company. And from 1998 through 2000, Paul served as artist representative for internationally-renowned pianist James Williams.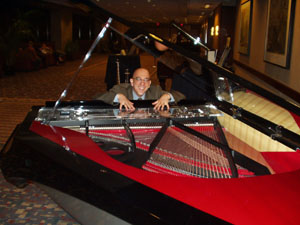 Paul continues to perform, but is currently focused on piano technology, devoting himself to improving the condition of pianos in his community, particularly those often neglected in public venues. He is a Registered Piano Technician (RPT) Member of the Piano Technicians Guild.

More than his formal musical education, Paul attributes his love of Jazz and his natural affinity for the music to the many opportunites he has had over the years to hear and associate with truly great, generous musicians -- mostly in intimate club, but occasionally in concert, settings.

During his high school and college years, Paul was significantly impacted by the live performances of such influential players as Monty Alexander, Ray Bryant, Tyree Glenn, Earl "Fatha'" Hines, Marian and Jimmy McPartland, Red Richards, Norman Simmons, Buddy Tate, Bobby Timmons and Teddy Wilson, all of whom appeared regularly at the Dinkler Motor Inn, a favorite Syracuse nightspot.

On one occasion, Paul's parents took him to the Saratoga Performing Arts Center, where he was lucky enough to hear the Duke Ellington Orchestra in concert with many of its star players, including Johnny Hodges, Cootie Williams and Harry Carney. Afterwards, Paul met Duke in his dressing room, and received an impromptu backstage lesson from organist Wild Bill Davis.

And while in college in Miami, a similar evening found Paul catching the Count Basie Band at the Playboy Club, hearing historical figures like Freddie Green on guitar, and hanging out with drummer Sonny Payne. Later, living in New York, Paul was exposed nightly to an array of artists including Cedar Walton, Roland Hanna, Big Nick Nicholas, Harold Mabern, Jr., the Thad Jones-Mel Lewis Band, Herbie Hancock, Sam Jones, and countless others.